® brand
think purity
learning that the allmigo® company holds paramount the safety, quality, and purity standards of each food ingredient is no longer a novelty.
implementing a direct–trade program for cacao and coffee beans in order to keep food allergen–free from farm to kitchen might only excite people for food allergy safety® customers these days.
sourcing our cacao and coffee beans from certified organic farmers to assure our ingredients are grown agrochemical–free might not matter to the guy at the grocery store, or at the corner pharmacy, or at the gas station buying chocolate gifts for his loved ones while getting coffee for himself.
multiple college students might not care about the fact that our food products are both formulated and made top eight allergen–free and beyond.
indeed, many people won't even notice the fact that our bakery goods are 100% plant–based.
OR that we keep our ingredient list to a bare minimun.
OR that we only prefer recognized food ingredients instead of novelty food–like substances.
OR that we reject using bioengineered food ingredients.
OR that all our products are made by people for food allergy safety® in a dedicated research & development kitchen without the presence of the top eight food allergens.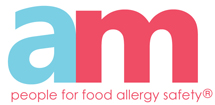 that's because once you taste the rich flavors of each allmigo® food, you will rediscover food.
you will only have time to think about the taste of purity.